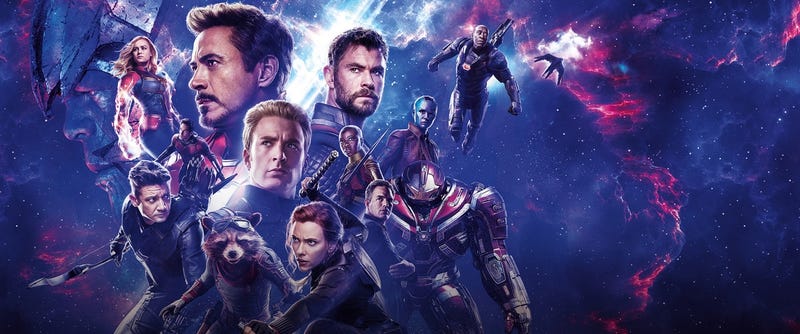 Endgame has finally come!
I know I'm a bit late with this review but, I did want to give people the chance to see it before I wrote anything up, because tickets were a lot harder to come by this time around, tickets where I live were selling out as soon as they were on sale. Also, I had surgery a few weeks before and there have been some complications and I wasn't in a state to post anything, but that did allow for more time for everyone else to see it, so it all worked out.
Record Breaking Release
So first of all: A $350 million domestic opening weekend and a worldwide take of TWO BILLION BLACK ASS AMERICAN DOLLARS. I shouldn't be surprised but honestly no one ever thought that Marvel would get to this point. It's coming for Avatar's neck, and I couldn't be more pleased that James Cameron's Pocahontas rip-off is about to be dethroned.
It's been a long journey, 10 years and 20+ movies and the Infinity Saga is finally concluded. Overall, I really really really enjoyed the film. It was a testament to the vision on Kevin Feige, making it all work. However, I had A LOT of problems with it. As then end of an era, it focused on closing the arcs of the OG Avengers, so let's do the rundown that way.
I Love You 3000
The most rewarding arc for me was that of Tony Stark. Coming from the arrogant genius, billionaire, playboy, philanthropist to the dude that sacrifices everything - including his happily ever after with Pepper and his kid - to set the universe right, his death was sad, but the appropriate ending for his character. What I've been the most impressed by is the consistency in the characterization of Tony Stark since the very first Iron Man film way back in 2008. Robert Downey Jr. will always be the definitive Tony Stark in my mind, but I hope this opens the door for RiRi Williams' Ironheart in the MCU.
I do think we'll see a lot of plotlines and characters from the Marvel's Ultimate Universe going forward (which include the likes of Miles Morales (tha god) and Kamala Khan - at least until the X-Men and the Fantastic 4 are ready to board the SS Feige) especially with all the consequences from time travel, alternate timelines (i.e. Loki), and the prospect of a "multi-verse." Still I do hope we see more of RDJ in the future, at least in holograms or something, because as indifferent as I used to feel about Tony Stark, he really was the glue that held everything together, and I'm not sure the MCU is ready to be without him... or maybe I'm not. He's been the constant this whole time, so it'll be interesting to see how they move one without him.
Thicka than a Snicka
There have been mixed reactions about Thick Thor, and to be fair I do feel like both sides are kinda of right. On the one hand, I can agree that Thor's depression shouldn't have been played up for laughs, on the other, I feel like it's in line with how his arc has shifted. It's not a wholly unrealistic depiction of how depression might play out for someone like him. He's lost everything: his entire family, his home, and he feels like a failure for not killing Thanos and preventing The Snappening in Infinity War.
Personally, I enjoyed this take on Thor, and as someone who approves of the more comedic shift of the character, I have to say, I think it serves the character in his current iteration, it wouldn't make sense to shift back to the more serious "Shakespearian" 2009 version. That's just not where he is anymore. Besides that, there's nothing wrong with going through shit and being depressed or gaining weight because of that, and it doesn't appear to have slowed him down in the least. If anything, it gives people cosplay options that they didn't have before, and I'm always here for that. There will be so many Thick Thors at Comic-Con this year, and I can't wait.
Professor Hulk
So... this is where the Russo's kinda lost me. Not that I think this was a bad turn for the character, it's more that I feel like a lot of "development" happened off-screen that they should've made time for. Look, the movie is already 3 hours long, I can spare another 5-10 minutes for y'all to make this make sense. For as much time as they spent building up the struggle between Banner and Hulk, seeing the reconciliation between these two would've been nice, especially considering that it was such a huge plot point in Infinity War. This is one of the many things in this film that felt rather unearned for me (but, we'll get to that). I do like that Ruffalo got much more to do as Hulk than usual, and if Universal ever gives up those distribution rights, I'd love to see a Professor Hulk movie. In the meantime, we'll have to be happy with him just appearing here and there. The Hulk/Banner arc is the only one that I felt that had zero closure.
They Did Nat Dirty
So here's the point where we start the harsh criticisms. Marvel has never been particularly good with how it's treated its female characters, and the arc of Natasha Romanoff has never made that more clear. To be frank, I think Nat's death was complete and utter bullshit and they should've known better. Listen, I know they have that upcoming Hawkeye Disney+ series that no one is going to watch to look out for, but they also have the "rumored" Black Widow film coming up, which is now supposed to be a prequel. And I'm pissed. Black Widow is one of my favorite MCU characters, and honestly I'd rather see what Nat is up to post-Thanos than Hawkeye. If they want a Hawkeye series to justify their investment in Jeremy Renner, then they should do a Ronan series similar to the Loki one they're planning, because that wasn't fleshed out in the film at all, for all the buildup on how "important" that arc would be for a character that's barely done anything since Thor, it went absolutely nowhere in Endgame. Speaking of which...
Ronan, I Presume?
Should've died on Vormir, and that haircut is fucking stupid.










---
America's Ass
I have a lot of feelings about Steve Rogers' arc, most of them fairly negative. Like Tony Stark, his characterization has been fairly consistent, at least until this film. For one thing, I don't appreciate that Weeping Angels ass ending of his arc, which for one thing, barely makes sense within the rules about time travel that the film establishes, and also, because I don't believe for a damn second that Steve would just abandon Bucky in the future like that. ALL of the Captain America movies have been about his friendship with Bucky, and I just find it real hard accept that he would just leave Bucky to live his own life in the past without giving him the option to do the same. And having Steve's last scene being with Sam and not Bucky? No. Just, no.

Not to mention, that damn shield was broken in the final battle with Thanos, and should've stayed that way. Sam taking up the mantle was completely unearned, he's done little to deserve it, and if you're going to go as far as breaking the shield for shock value, then leave it the fuck broken, the MCU doesn't need another Captain America, it already has one. As a side note, I did appreciate the acknowledgment of Steve Rogers being worthy of wielding Mjölnir. I've never forgiven Joss Whedon for that shit he pulled in Age of Ultron. 
Other Bits
There were other things that I felt were unearned, like that A-Force moment, during the final battle (even though I still really enjoyed it), but I still really appreciated the spectacle of it all, and I think it mostly delivered on the hype, even if I didn't agree or like every single narrative decision made, I ultimately enjoyed the film. Also, I was half right in my theories from my Infinity War post, so there's that (can't win 'em all). Not sure if there will be another Avengers movie, but I'm not sure how well it's going to work going forward without such key players. Only time will tell.
Let me know what you thought!