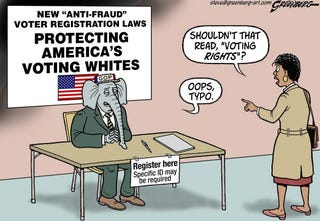 There is WAY too much gerrymandering, violence targeting minorities, and other racist GOP bullsh*t around voting today, and it's not even halfway through the afternoon
FLORIDA
GEORGIA
 MICHIGAN
 SOUTH CAROLINA
TEXAS
 YES, YOU TOO, "PROGRESSIVE" STATES —
 NEW YORK
 NEW JERSEY
 CALIFORNIA
This is extra special
I wrote something yesterday I thought I was really clear about, but I guess I have to make the point again while there's still time: If you are a white American and you call yourself progressive, if minority votes are suppressed, your party loses. YOU lose.
And if you can't manage wrap your heads around any other reason, THAT'S why you should care about it.
I don't know if the meter can take much more
And to paraphrase that great sage Piglet from the Hundred Acre Wood, I hope it's not already too late.

I catalogued all this so that if by some miracle it's NOT too late, and we DO pull this off, there won't be a barrage of "butbutbut IT NOT RACISM" the next time there's some outlandishness all the POC are near-screaming about and all the white progressives are straining not to see, hear, or speak about at all. The country literally will not work on a Denial Model. The pace of change has accelerated, and everything is moving too fast to take time to placate and appease and pander to any more nonsense.