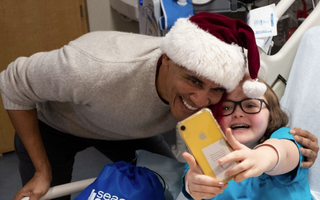 The mighty POTUS44 is visiting the good children at Children's National Hospital in Washington, and Mrs. Forever FLOTUS surprised elevator goers at 30 Rock, is on the front page of every national women's magazine this month (Be Best, Melancholia, with your red trees)

... and she has added so many extra tour dates she will be on the road with her best-selling book till at least May, because she & her team are giving away blocks of seats to Blue Star families.

Questlove did her playlist that accompanies the slide shows before her talks. It's on Spotify

— but watch out for Spotify, because Facebook is "sharing" your personal data with their CEO without your consent again, since Congress won't listen to the people who already know how to regulate their thieving behinds and keeps scrambling to try to get grizzledly and determinedly incurious white men who neither understand enough nor care to understand enough about the issues to try to regulate it properly (yes, I'm warming up to an ongoing series on the ongoing issues here since I just found out that the Lead Counsel for the NAACP just did a Washington Post Op-Ed predicated on the exact same theory I was writing about here early this past year, which is that racism is a national security threat).
Anyway. Continue to maximize the joy (and minimize the drama, since the Legion of Doom is determined to keep bringing it) through your Holidaze.