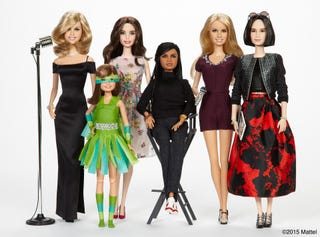 Today, Mattel released its Shero collection which features 6 women who they think inspire girls and women alike to live their dreams and dare to live outside of societies boundaries. Even though the Barbies are not for sell (COME ON MATTEL...TAKE MY MONEY). I am so happy to share that two of the six women featured are Women of Color.

Yes, you did read that correctly.
Ava DuVernay, uber talented and the first Black Woman director to have a film be nominated for an Academy Award, and Eva Chen, Editor in Chief of Lucky Magazine(the youngest ever appointed of a major magizne) were selected (along with Emmy Rossum, Kristin Chenoweth, Sydney "Mayhem" Keiser, and Trisha Yearwood) to be feature in this collection.
Evelyn Mazzocco, the General Manager of Barbie, released this statement:

Barbie has always represented that girls have choices, and this Spring we are proud to honor six Sheroes who through their trade and philanthropic efforts are an inspiration to girls. Started by a female entrepreneur and mother, this brand has a responsibility to continue to honor and encourage powerful female role models who are leaving a legacy for the next generation of glass ceiling breakers.
Number one reason why I am so happy?
Because I always get happy when I see Women of Color being recognized not only for being awesome but for existing within the margins of society without being a trophy when society really wants us to stay in the margins.
I say congrats to Ava and Eva both. Hopefully, these dolls will be offered for retail sales and for Mattel to start offering other things Barbie related for young Girls of Color.
---
Eva Chen, Editor in Chief of Lucky Mag
---
Ava DuVernay, Director of Selma (Nominated for Best Picture at Academy Awards)

Want to know what Ava is up to and catch up on previous projects of hers? Shadow and Act has a pretty good run down here.
---
Who do you want to see in the next Sheroes collection?