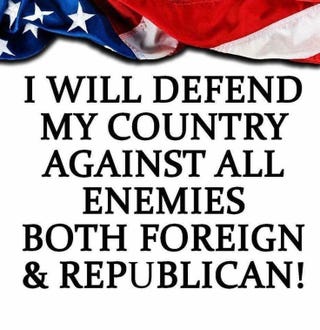 I mean, I know the answer to the question. I'm just trying to do my best to let everybody know about it who doesn't already because McConnell was trying to sneak it past us just like he ramrodded Scott Pruitt's confirmation through (because we know everything related to his term of service so far is all going really well).
The other REALLY BIG problem with this is that Scott Pruitt can eventually be fired, assuming we have a planet left. By contrast, federal judgeships are lifetime appointments.  
Even Ted Cruz is asking questions. So this isn't really a partisan matter. It's a matter of recognition of the rule of law and adherence to proper procedure.
I also know it's hard to care about intangible things, but since we care about – oh, equal access to education for all Americans, or the Constitution – or both – this is a really good time to reach out to any Pulitzer Prize winners with whom we're even marginally acquainted and let them know about the Repugnicans' most recent round of attempted sneaky, swampy shenanigans.

Sigh.
ETA: I just found out they were trying to pull off this breach myself. Otherwise I hope everyone knows I would've told everything I knew about it much earlier than this ... though, tbf, I did also do that canary-in-the-coal-mine post back at the beginning of the judicial appointment cycle, when probably most people thought it was too early to be concerned.