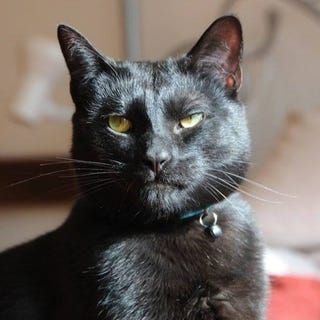 The tight-lipped mug above belongs to Mr. Biggles, who's described by the Cat People of Melbourne's Gina Brett, as an "utter bastard". He's up for adoption, & the agency wanted to tell no lies. The two year old cat, also called "Lord Biggles", likes to bite people occasionally, but he snores when he sleeps (awww), & sometimes likes to cuddle. He's in need of a permanent home to terrorize, because he's accustomed to the taste of his foster parent's ankles. Hopefully, he'll get a new home to wreck, soon. In the meantime, you bite dat ass, Mr. Biggles. Get 'em.
He has his own website: utterbastardcat.com.
(courtesy of the brave reporters at HuffPost)
I love him.